Glass Eyes Online
Suppliers of glass eyes worldwide
Glass Eyes Online - Terms
Home - Terms
Terms and conditions of this website
Payment
All orders must be covered by full remittance, including insurance if required. Cheques or Postal Orders should be made payable to STS North Wales
International customers (including Eire), should make payment in pounds by either one of the following major Credit or Debit Cards, Visa, Delta, MasterCard, Switch or Amex.
Special Offers
Special offers are of limited duration only and are liable to be withdrawn without notice on expiration of special offer stock. Payment sent for offers not available will be refunded in full.
Returns

In the unlikely event of any merchandise being found to be defective it will be eligible for replacement if reported and returned to us within seven days from the date of despatch.
Under the United Kingdom's Distance Selling Regulations, you have the right to cancel the contract for the purchase of any of these items within a period of 7 working days, beginning with the day after the day on which the item is delivered. This applies to all of our products. However, we regret that we cannot accept cancellations of contracts if the delivery has been unsealed. A return of non-defective goods which have been unsealed for credit or refund will incur a restocking charge of 15%. The goods must be in a resalable condition to qualify. A credit will not be issued until the goods have been received and inspected by us.
General Conditions of Trading
We reserve the right to alter the above terms and conditions as and when trading conditions demand.
The placing of an order will be taken as acceptance of the above Terms and Conditions.
Orders accompanied by a cheque will be held for clearance. Please allow up to 10 days.
We do not supply eyes for prosthetic use.
Cancellation Policy
As most orders are shipped with in 48 hours of receipt, orders may be cancelled in writing via email and with out penalty, up to 24 hours after the order has been placed.
Explore glass eye colours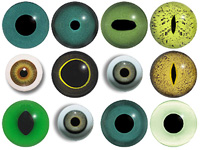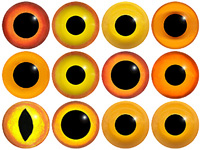 Select colour:
black | blue | brown | gold | green | grey | orange | red | white | multicoloured |