Glass Eyes Online
Suppliers of glass eyes worldwide
Glass Eyes Online
- Terms & Conditions

Home - Terms

Please read the following user agreement (Agreement) carefully before using this website. Your use of the website will constitute acceptance of this Agreement.
1. INTRODUCTION
1.1. This website is owned by STS (North Wales) Limited ("STS"). Glasseyes.com is a website ("the Website") operated by STS (North Wales) Limited ("We"). We are registered in England and Wales under company number 05830237 and have our registered office at 10 Mostyn Street, Llandudno, Wales, LL30 2PS. To contact us please see our Contact Us page.
1.2. This Agreement may be amended by the STS from time to time. Any changes to these terms and conditions will be announced on this page. Continued use of the service by you after any such announcement will constitute your acceptance of the changes so you should check this page regularly. Your failure to comply with the terms and conditions of the Agreement as amended from time to time may result in termination of your access to the service or to its exercise by STS of other contractual remedies against you.
2. CONTENT AND STS' IP RIGHTS
2.1. All text, graphics, user interfaces, visual interfaces, photographs, trademarks, logos, sounds, music, artwork and computer code (collectively, "Content"), including but not limited to the design, structure, selection, coordination, expression, "look and feel", material of this Website and arrangement of such Content, contained on the Website is owned, controlled or licensed by or to STS, and is protected by trade dress, copyright, patent and trademark laws, and various other intellectual property rights and unfair competition laws.
2.2 The trademarks, logos, trade names and service marks, whether registered or unregistered (collectively the "Trademarks") displayed on the Website are Trademarks of STS or licensed to STS. Nothing contained on the Website should be construed as granting by implication or otherwise, any licence or right to use any Trademark displayed on the Website without the written permission of STS or such third party that may own the Trademark. Any unauthorised commercial use of these materials will violate STS's intellectual property rights or its licensor's rights and will be subject to STS' or its licensors' full legal rights and remedies.
3. USE OF THE WEBSITE BY YOU
3.1 All rights in the Content not expressly granted herein are reserved. Except as otherwise provided, the Content published on this Website may be reproduced or distributed in unmodified form for personal non-commercial use only. Therefore, you may retrieve and display Content from the Website on a computer screen, print individual pages on paper (but not photocopy them) and store such pages in electronic form on disk (but not on any server or other storage device connected to a network) for your own personal non-commercial use only. Any other use of the Content, including without limitation distribution, reproduction, modification, display or transmission without the prior written consent of STS is strictly prohibited. All copyright and other proprietary notices shall be retained on all reproductions.
3.2 Any material or information sent through or in connection with this Website by you ("User Materials") will be treated as non-confidential and non-proprietary, and immediately become the property of STS, subject to any privacy policies posted on this Website. STS may use such User Materials as it deems fit, anywhere in the world, without obligation for compensation, and free of any moral rights, intellectual property rights and/or other proprietary rights in or to such User Materials.
3.3 You may not frame or use framing techniques to enclose any trademark, logo or other proprietary information (including images, text, page layout, or form) of STS without STS' express written consent. You may not use any meta tags or any other "hidden text" utilising STS' names or trademarks without STS' express written consent.
3.4 You agree to use the Website only for lawful purposes and that you acknowledge that your failure to do so may subject you to civil and criminal liability. Other than by connecting to STS' servers by HTTP requests using a web browser, you may not attempt to gain access to STS' servers by any means, including without limitation, by using administrator passwords or by masquerading as an administrator while using the Website or otherwise.
3.5 You acknowledge that STS has not reviewed, does not endorse and is not responsible for the content or actions of any other sites this Website links to. Linking to any other service or site from this Website is at your own risk.
4. IP RIGHTS COMPLAINTS
4.1. STS respects the intellectual property of others. You, as a user of the Website, represent and warrant that you will respect the intellectual property of STS and of others.
4.2 STS may in appropriate circumstances and at its discretion terminate the access of users who infringe the IP rights of others.
5. LINKS
Any third party website that links to this Website must not:
5.1. create a frame or any other browser or boardroom environment around the content of this Website;
5.2. imply that STS is endorsing it or its products or services;
5.3. use any STS trade mark displayed on any STS Website without permission from STS;
5.4. infringe any intellectual property or other right of any person;
5.5. be a website that contains content that could be construed as distasteful, offence or controversial.
5.6. STS expressly reserves the right to request that any link in breach of these terms be removed and not take whatever other action it deems appropriate.
6. MATERIALS PROVIDED BY OTHERS
You agree that STS is not responsible and shall have no liability to you with respect to any information or materials posted by others including but not limited to defamatory, offensive or illicit materials.
7. INDEMNIFICATION
You agree to indemnify STS and its affiliates, employees, agents and representatives and to hold them harmless from any and all claims and liabilities (including legal fees) from your unauthorised use of material obtained through the Website, from your breach of this Agreement or from any such acts arising from your use of the Website.
8. DISCLAIMER OF WARRANTY AND LIMITATION OF LIABILITY
8.1 You acknowledge that you are using the Website at your own risk. The Website is provided "as is" and to the extent permitted by applicable law STS hereby expressly disclaims any and all warranties expressed and implied, including but not limited to any warranties of accuracy, reliability, title, merchantability, non-infringement, fitness for a particular purpose or any other warranty, condition or guarantee or representation whether oral in writing or in electronic form, including but not limited to the accuracy or completeness of any information contained therein or provided by the Website.
8.2 STS does not represent or warrant that access to the Website will be uninterrupted or that there will be no failures, errors, omissions or loss of transmitted information or that no viruses will be transmitted on the Website.
8.3 Save for the provisions of the following clause, STS shall not be liable to you or any third parties for any direct, indirect special, consequential or punitive damages allegedly sustained arising out of your access to or inability to access the Website, including viruses alleged to have been obtained from the Website, your use of or reliance on the Website or any of the information or materials available on the Website, regardless of the type of claim or the nature of the cause of action even if advised of the responsibility of such damages.
9. TERMINATION
STS may terminate your ability to access the Website, for any reason, without notice.
10. PRIVACY POLICY
Any information about yourself that you provide to STS will only be used by STS in accordance with its privacy policy. The privacy policy does not apply to third party sites.
11. CHOICE OF LAW AND JURISDICTION
You agree that this Agreement shall be governed by and construed for all purposes in accordance with English law. You will also agree, subject to the following clause, to submit to the exclusive jurisdiction of the English courts as regards any claim or matter arising out of this Agreement. For the exclusive benefit of STS, STS shall retain the right to bring proceedings relating to the substance of the matter in the courts of the country of your residence.
12. GENERAL
12.1 This Agreement is the complete and entire agreement between the parties relating to the use of the Website and supersedes any prior agreement whether written or oral.
12.2. If any provision of this Agreement is found to be invalid by any court having competent jurisdiction the invalidity of that provision will not affect the validity of the remaining provisions of this Agreement which shall remain in full force and effect. Failure of either party to exercise any right or remedy under this Agreement does not constitute a waiver of that right or remedy.
Explore glass eye colours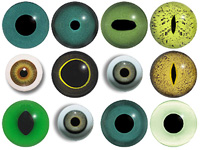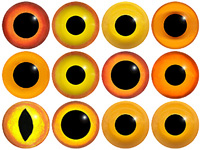 Select colour:
black | blue | brown | gold | green | grey | orange | red | white | multicoloured |