Glass Eyes Online
Suppliers of glass eyes worldwide
Glass Eyes Online
- 160AF fish eyes
Fish eyes 160AF

Multicoloured Fish Eyes Code 160AF: This aspheric range of fish eyes are amongst the finest available, the fine gold line surrounding the pupil is delicate and very realistic. Because of the aspheric format, the eye can be rotated when set to give expression to the model. Use in conjunction with the eye sockets below:
160MT Eye Capsule: This eye capsule for fish is simple to use. Adds expression and life to fish mounts. Insert the socket while mounting and allow to dry, paint fish as usual and then insert a pair of 160AF eyes. No cleaning, frosting or scratching. More information
Total eyes in this department: 5
Explore our Glass Eyes
Helpful tip: If there is more than one size option for an eye then the drop down box alongside the eye will offer you the full range of sizes. Simply select your preferred size from the choice offered next to "Size:" and select "Add to Cart".
Explore glass eye colours: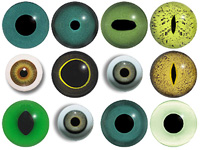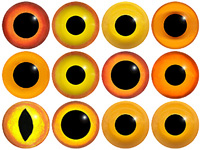 Select a colour:
black | blue | brown | gold | green | grey | orange | red | white | multicoloured |
View a selection of eyes:
acrylic | blanks | bear | bird | doll | fish | human | mammal | reptile | teddy
Popular searches:
Cat | Deer | Doll | Finch | Goat | Mannequins | Owl | Robin | Salmon | Sheep | Vole