Glass Eyes Online
Suppliers of glass eyes worldwide
Glass Eyes Online - Welcome
Home - All eyes
Glass Eyes.com - STS North Wales
Human, Bird, Mammal, Fish, Reptile, Doll and Teddybear Eyes
Welcome to Glasseyes.com - the leading supplier of all types of glass and acrylic eyes for the Model Making industry.
Every eye is illustrated in full colour and accompanied by its list of available sizes making selection simple – we stock many thousands of colours and sizes but some codes are made to order, so please check with us before ordering if your order is urgently required.
If you need expert advice about a product or have any query, our dedicated team is trained to help you.
Please call us on +44(0)1492 642 220
Monday to Thursday 9.00am – 5.00pm
Friday 9.00am - 4.00pm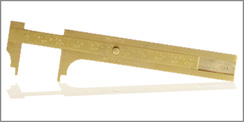 Brass calliper
Our Brass calliper is a manufactured to a high standard and offers a high level of accuracy. This versatile precision measuring instrument is capable of measuring in both metric and imperial. Graduations are shown clearly on the brass slider. The callipers can be used for both internal and external dimensions. This makes the calliper ideal for use in eye sizing and setting.