Glass Eyes Online
Suppliers of glass eyes worldwide
Glass Eyes Online - Reptile eyes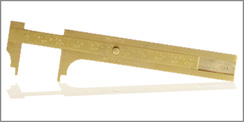 Brass calliper
Our Brass calliper is a manufactured to a high standard and offers a high level of accuracy. This versatile precision measuring instrument is capable of measuring in both metric and imperial. Graduations are shown clearly on the brass slider. The callipers can be used for both internal and external dimensions. This makes the calliper ideal for use in eye sizing and setting.
Home > All eyes > Reptile eyes
---

Reptile and Amphibian Eyes Code 130CC:
A concave convex multi-coloured reptile eye with a round pupil
Explore this range


Reptile and Amphibian Eyes Code 132:
A concave convex reptile eye with a slit pupil accurately detailed by skilled colourists
Explore this range


Amphibian Eyes Code 132A:
A selection of eyes designed for amphibians with varying pupil shades
Explore this range


Back a Page  
Helpful tip: If there is more than one size option for an eye then the drop down box alongside the eye will offer you the full range of sizes. Simply select your preferred size from the choice offered next to "Size:" and select "Add to Cart".
Explore glass eye colours: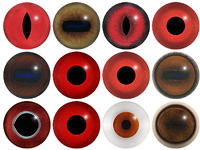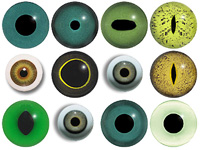 Select colour:
black | blue | brown | gold | green | grey | orange | red | white | multicoloured |
View a selection of eyes:
eye blanks | bear | bird | doll | fish | human | mammal | reptile