Glass Eyes Online
Suppliers of glass eyes worldwide
Glass Eyes Online
- 511 bird eyes
Bird eyes 511

Bird eyes 511: Single colour eye with a black pupil on wire - if you're not sure of the colour and size then just name the bird and state male or female and we will be pleased to help. Ideal for stick making and decoy carving.
Total eyes in this department: 19
Explore our Glass Eyes
Helpful tip: If there is more than one size option for an eye then the drop down box alongside the eye will offer you the full range of sizes. Simply select your preferred size from the choice offered next to "Size:" and select "Add to Cart".
Explore glass eye colours: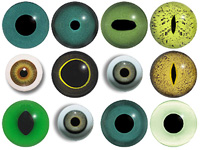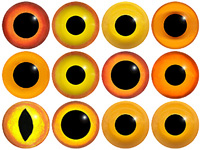 Select a colour:
black | blue | brown | gold | green | grey | orange | red | white | multicoloured |
View a selection of eyes:
acrylic | blanks | bear | bird | doll | fish | human | mammal | reptile | teddy
Popular searches:
Cat | Deer | Doll | Finch | Goat | Mannequins | Owl | Robin | Salmon | Sheep | Vole